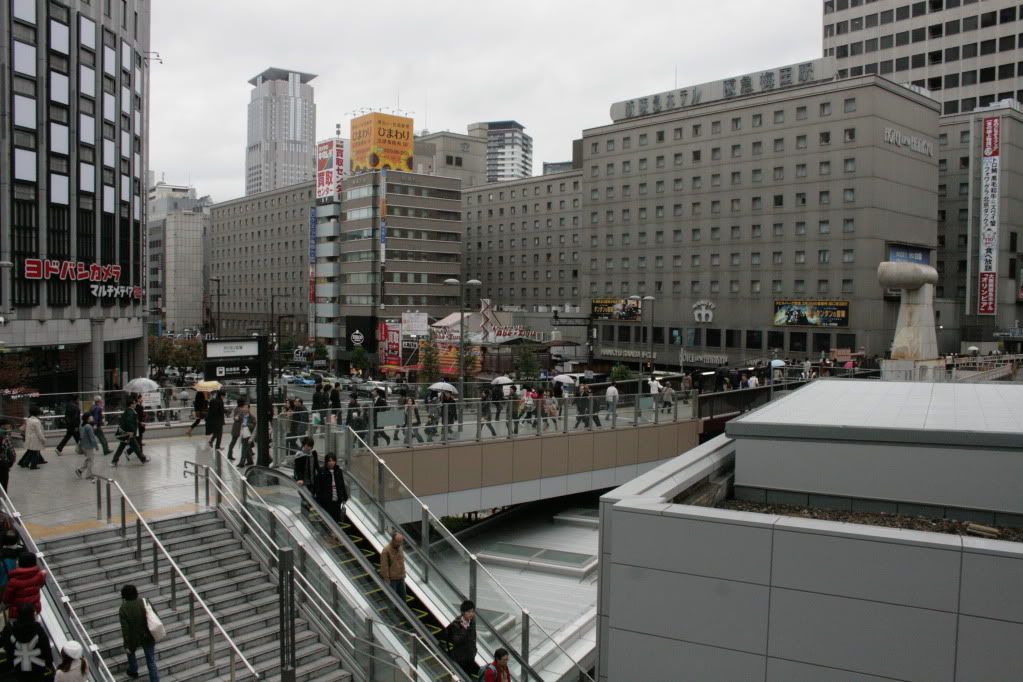 I've been busking in Osaka for the last couple of weeks now. It's been really good and I've made a lot of new friends. Language has definitely been no barrier. And now that I've got this beast of a new amp (Roland BA 330) I no longer need to worry about being heard over all the background noises from the street. All I have to do is turn up and enjoy myself.
There's a really healthy busking scene in Osaka with loads of performers playing every evening from around 6pm. It's now June and as it gets warmer it gets harder to find a spot to play. So get there early if you don't want to be bumming around half the night waiting for a space.
Despite it being against 'the regulations of the city' there are many unwritten rules and edicates to the game. Different areas allow different numbers of performers and each act does a three song set (15-20 minutes) taking turns for as long as you want to stay on the pitch. If you do stay all evening and into the night it's really interesting to observe the character of your audience change over time. Before 5pm you mostly see the causal types, students, mothers, tourists and the like. From 5pm until 8pm it's all the suits, steaming past trying to catch a train. From 9pm onwards you get a lot of drunks. Most of them business men, some of them looking real scruffy, but they're the ones who really add colour to your night. They'll run and get you a pastry from KFC or try and stuff change in your pocket while you're playing. Their alcahol induce stuper has libirated them from the social norms and they just want to be your friend.
There are a few good areas around the city to play but my favorite is Umeda, in and around Osaka station.
The two primary pitches around Osaka station allow a different numbers of performers. On the new side of the station, by the Midosuji Line gate and opposite Yodobashi Camera there's a pitch for two performers. When you don't speak the language these little things are hard to figure out. I got the wrong idea at first because there had been three acts, including me, the first couple of times. Then people started telling me that only two were allowed and I got real paranoid and I began to suspect people of taking the piss. I soon realized that people had made the exception for me the first couple of times I'd gone, such is the general welcoming attitude of the Japanese. The foreign guy card is always a good one to play but it doesn't always work.
Still I don't really understand why only two performers are allowed in such a large area. It could easily accommodate three or four. I prefer three over two because playing with only one other act is a bit intense. You don't have much time between sets to do your meeting and greeting and you also want a bit of time to rest your throat and prepare for your next performance. Maybe I don't have good stamina because I find I burn out pretty quickly. Anyway, that's the rules.
The other prime area is on the other side of the Midosuji exit on an exterior concrete staircase. Three acts can play here. This area is very busy, which is good, and also more enclosed which means you get a larger passing crowd passing near you and so a higher chance of catching people's attention. The downside is you can't start playing until 6pm (I think because of shop deliveries nearby) and it's a bit awkward on the stairs. Nevertheless it's still a great spot and unless you get moved on by the police you can play until eleven.
If the police come along while you're busking they'll politly move you on. Sometimes they even wait untill you finish the song you're playing before coming over to talk to you. This is not the time to get annoyed or cocky. A smile and a nod are all you need to appease them. no need to try out your japanese either. You may find that gets you aggravation. The strange paradox of living in Japan is that the more you come accross as being aware of the languge and the culture the harder they will be on you.
I'm told that you can get moved on a maximum of three times a night, so what most people do is pack up and wait around the nearest corner and set up again as soon as they go. That is so long as no one else grabs your spot first. In fact on busy nights you see performers waiting with all their gear for people to get moved along by the police so they can immediately take the space. Why the police engage in this game of cat and mouse without taking any pains to prevent people from immediately setting back up once they turn their backs is beyond me. Like with a lot of what goes on in Japan it's probably all a load of box ticking, bureaucratic nonsense. If you want to have a good time in Japan over a prolonged time frame this kind of stuff you have to learn to accept. It's a bit like waiting for the man to go green when there is no traffic on the road. Maybe the police haven't got much else to do. The streets are so safe that performers pop into shops or toilets leaving their equipment standing in the street.
No one has told me what happens after your third police encounter although I'm sure the 'foreign guy card' will get me out of any trouble.
Update 2013
After writing this original blog post last year I began playing most of my music in clubs and bars around Osaka and Kobe. But there are a couple of other busking spots that I came across that I wanted to share with you. A couple of good places that I didnt mention before are Tenmabashi and Kyobashi in Osaka City, and Sannomiya in Kobe City.
Sannomiya sticks out as having the best atmosphere and the most diverse and interactive crowd of all the street performing spaces in the Kansai area. If you get the chance to play anywhere I would recommend Sannomiya above all others. It all centres around a little square called Pai-yama. The police are still about but it's the same old story. Be
polite and you can get away with setting back up a moment later.
Street Performance in Osaka, Nakanoshima (Not busking)